James Steele is a lead singer, guitarist and songwriter who has fronted numerous bands both in San Diego and Los Angeles including Anvil, Bad Boys, American Steel, Nemesis, and most recently Pale Black. "My influences are the great bands of the 70s and 80s," states Steele. "I learned guitar by playing along with recordings of Led Zeppelin, Scorpions, Judas Priest, Rainbow... the classics!"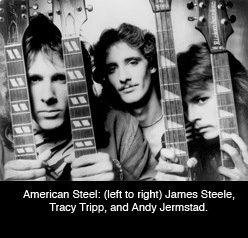 Steele began as a guitarist, playing in the same San Diego metal circuit that produced Jake E. Lee, Craig Goldie and Warren DeMartini among others. During this time, Steele's band, American Steel, had to replace their singer, and after many fruitless auditions it was decided that Steele would assume the lead vocal duties as well as guitar. American Steel became a three-piece band in the pattern of Rush and Zebra. With Steele as the principal songwriter, the band garnered critical acclaim. One of the band's songs, "Everchanging Wind," received regional airplay and prompted San Diego Union music critic, Thomas K. Arnold, to liken it to "some of the greatest rock ballads ever... like Aerosmith's Dream On..."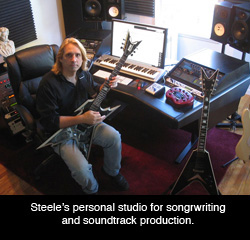 American Steel eventually disbanded and Steele took a break from the rock and roll business. He completed an Associate of Music degree with honors, and went to work for a major video production company. He also immersed himself in the then-blossoming field of computer-based digital audio recording, beginning with the first IBM PC, and culminating with the modern Macintosh workstations of today. Steele soon found himself in demand as a sound designer and composer for film and video productions, producing soundtracks for clients like the San Diego Zoo, Anthony Robbins, The LaJolla Cancer Research Foundation, and many others. He also founded and still maintains MOTUNation.com, a internationally known internet forum for users of Digital Performer, the popular digital recording software by MOTU (aka Mark of the Unicorn). MOTUnation.com is the largest forum of its kind with over 35,000 registered members.
Although Steele was enjoying his work as a video composer and session vocalist, rock and roll still beckoned. He felt a renewed need to express himself musically and decided to pick up his rock music career where it had left off. To get his voice back into shape, he sang with a number of local cover bands including Purple Rising, a tribute to Deep Purple and Rainbow. "I remember when they called me-they said it's no big deal, just an hour-long set," laughs Steele. "but these were all songs sung by greats like Ian Gillan and Ronnie James Dio. Man, it was tough, but extremely challenging and rewarding!"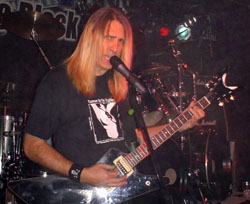 Soon Steele decided to start his own cover band called Pale Black. His goal was to assemble some of the best talent in San Diego and put on a show that paid unashamed homage to arena rock, with a quality sound system, drum riser, Marshall stacks, and the big look. "I was tired of going to clubs and seeing musicians who appeard to be going through the motions and playing the same old material," says Steele. "I'm proud to say we raised the bar." Pale Black rose to the top of the local cover scene in just one short year, but the time demands of a working cover band made the transition to original material difficult. On top of it, there were stage volume issues. "It had become unbearably loud on stage" recalls Steele, "I was pushing night after night to hear myself sing, and as silly as it sounds, I was not able to get it resolved, so rather than damage my voice, I simply shut down Pale Black."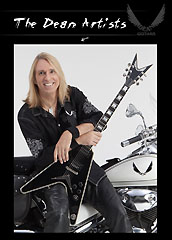 The end of Pale Black, however, proved to be the proverbial "blessing in disguise." For the first time in years, Steele was able focus on his original material and began writing songs for his first solo CD. Upon hearing one of his new songs, a friend passed it to a contact at Dean Guitars who was impressed enough to make Steele an official Dean artist, with a page at the Dean Guitars website as well as his photo appearing in a Dean Guitars print catalog. Not long thereafter, opportunities arose to work with some well-known musicians including guitarist Brad Gillis of Night Ranger who contributed a blistering guitar solo on the single "Can It Be The Same" (currently receiving solid 5-star reviews on iTunes) as well as legendary bassist, Billy Sheehan of Mr. Big, who lent his talents to a standout track of the upcoming CD--a secret remake of a 70s era song that Steele had wanted to cover for years. "Without a doubt, the highlight of my music career thus far has been the opportunity to work with amazing musicians like Brad and Billy," exclaims Steele, "They are also two of the nicest, most gracious human beings... I feel blessed to have met them, let alone worked with them."
As the release of his first solo CD nears, Steele has been gratified by a tremendous groundswell of interest. Thousands of fans are subscribed to his email list and over 54,000 fans combined have added his official MySpace and Facebook pages.